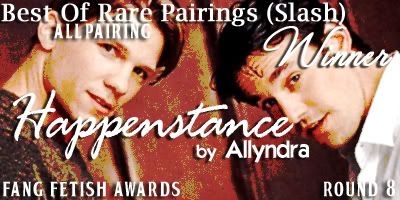 I love Xander slashed with anyone. It just equals pure yumminess. If I had an OTP, it would be Xander/Spike, and that makes up a large percentage of what I read, but I write him with all kinds of guys. This was my first attempt at Riley/Xander.
Title: Happenstance
Author: Allyndra
Fandom: BtVS
Pairing: Riley/Xander
Rating: Mature
Disclaimer: I don't own them, and I am so not lawsuit material. You can't get blood from a stone, man.
Summary: Pre-season 4, Riley takes a trip to Oxnard with his friends. The after effects linger.
Once is Chance
Graham admitted to Riley that when he came out to his friends, he'd half expected them to react with anger, confusion, or disgust. What he got was a level of unflinching support that made him walk around with an unaccustomed grin on his face for days. As Forrest said, "I won't abandon you under fire. What makes you think I'd drop you just because you want to leave more hotties for me?" Riley had nodded his agreement.
Forrest and Riley worked hard to be both supportive and subtle. This meant all teasing about sex and crushes was done in low voices in their rooms, they were careful never to giggle at Graham in the showers, and the 'coming out' party had to happen out of town. Way out of town. After some surreptitious internet searching, Riley found a town a few hours away that looked perfect. Oxnard was not a popular leave destination, so it was unlikely that they'd run into any fellow soldiers. It was close enough they could make it an easy weekend trip, yet far enough that they shouldn't see students from the classes they assisted with. And, most importantly, it possessed a strip club with male strippers.
Everything went according to plan, and less than three weeks after Graham had made his announcement, the three friends were on their way to Oxnard. They wore civvies, though Graham had jokingly grumbled that the 'Don't ask; don't tell' policy had been set up just to keep him from scoring. Everyone knew a man in uniform got more action. Riley drove, Forrest napped, and Graham played with the radio. Three hours of country music and snoring later, they pulled up in front of their hotel.
"So," Forrest said, looking around the lobby, "What's the plan?"
"We've got a heavy schedule to get through," Graham answered with a straight face. "Riley's going to change his clothes, we'll have dinner, and then we'll go watch the pretty men take their clothes off."
Riley looked down at his clothes. He wore a blue chambray shirt and comfortable jeans, neither of which were stained or torn. "What's wrong with my clothes?" he demanded.
"You look like a farm boy. Just change. For me." Riley shot his friend a death glare, but went to his room and changed. He muttered the entire time about perfectly acceptable clothes and friends who suddenly thought they were fashion experts just because they were gay. Still, this was Graham's party, and he could play fashion police if he wanted. Despite his pouting, Riley changed and rejoined his friends in the lobby wearing a v-neck shirt in a dark grey knit and slim fitting khakis. He did a sarcastic little twirl in front of them and got a smile from Forrest and a thumbs up from Graham.
"Just for that, I get to pick the restaurant," Riley said. He considered choosing something the other two would hate, but reconsidered. It wouldn't be much of a celebration if they spent the night listening to Forrest whine about eating sushi, after all. They wound up at a steakhouse. Riley enjoyed watching his friends at dinner that night. Graham, usually so good at presenting the facade of a stern soldier, was practically bubbling with happiness. Forrest, on the other hand, was trying hard to appear blase about the looming strip club visit. Riley knew Forrest accepted Graham's sexuality; he was just leery of *participating* in it.
When they finally walked into the Fabulous Ladies Night Club, it was almost anticlimactic. Riley wasn't sure what he'd been expecting, but it probably included more sleaze. This club was clean and dim, with neon lights set into the ceiling, casting a soft pink and orange glow over the darkened space. A runway stage was bordered by tall stools, and small tables were scattered across the floor. A bar ran along the entire length of one wall. It wasn't overly crowded, but there were people (both men and women) sitting, mingling, and ordering at the bar.
Riley looked at Forrest for his reaction and got a shrug. "Where do you want to sit?" the dark man asked. Riley would have headed for a hidden table in the corner, but Graham steered them to three empty seats at the stage. He left Riley and Forrest perched on their stools and returned a few minutes later bearing alcohol. He passed each of them a beer and settled a pitcher between them. Then, with a mischievous twinkle in his eye, he slid a stack of one dollar bills in front of each man.
Forrest raised an eyebrow. "What am I supposed to do with this?" he asked incredulously, waving the money in Graham's face.
The big man slapped the bills away. "I thought you were familiar with the concept of a strip club," Graham replied with a tiny, mocking smile.
"I am, but there is no way I'm sticking money in some guy's G-string." Forrest looked scandalized by the very idea.
"Wuss!" Riley accused. He made sure he was out of punching range when he said it. Forrest gave Riley a scorching look of disgust, but any other response was cut short by the change in the atmosphere. The lights dimmed and music started. Forrest subsided onto his stool and waited to see what happened.
The first act came on stage, and it was the stereotypical male stripper thing. A tall, heavily muscled man slowly discarded a parody of a fireman's uniform to the sound of pulsing music. He danced near their section of the stage early in his act and Forrest smiled in triumph. He leaned forward and droppped his stack of ones into the boot of the still mostly clothed stripper. He leaned back on his stool with a smug smile.
Riley glanced over at Graham to see if he was enjoying himself. To his surprise, his large friend looked entertained but not remotely attracted. When Graham caught him looking, Riley raised an eyebrow questioningly.
"Not my type," Graham said, leaning closer to be heard over the music. "I'm not into the big, musclebound guys." He glanced ironically down at his own physique. "I guess opposites attract."
The fireman left the stage to loud, appreciative yells from many patrons and polite applause from the three friends. They watched the runway, waiting to see what the next act would be like. The stage went dark, and when they lights came back up, they revealed a compactly muscled man in tight black leather holding a long whip. He wore his long blond hair tied back until the end, when he released it to pose, sweaty and nearly naked, with the whip wrapped taut around his body.
Riley checked Graham's reaction again and realized that his friend hadn't been kidding about having a type. He was flushed, and his usually pale eyes were nearly black with arousal. Graham slipped several bills into the dancer's G-string, along with a note that had his room number written on it.
Riley tried and failed not to be bothered about that. It wasn't the idea of hooking up with a stripper that repelled him. It was the thought of planning out a one night stand, knowing it was just for sex. It struck him as cold and unappealing. Internally, he laughed at himself. He couldn't imagine trying to explain to his friends that he wanted a connection just as much as he wanted the pleasure of sex.
The third and final act of the set began while Riley was staring at his drink and contemplating his inner mushiness. He looked up, and his breath caught. The current dancer didn't seem to have a gimmick like the fireman and leather guy. He wore a battered old bomber jacket over a plain white t-shirt and tight blue jeans. His feet were bare, which struck Riley as innocent and intimate. He'd been dancing with his head down, and just as Riley looked up at the stage, he raised his head and dropped the jacket from his shoulders.
Riley stared.
He was beautiful. Somehow appearing shy while stripping before strangers, the man had shaggy dark hair and a hint of a crooked smile. His eyes were dark as well, set beneath heavy brows. The man started teasing the t-shirt up, revealing slivers of golden skin. Riley didn't think he'd ever been this hard from seeing this little flesh. He found himself tensing in anticipation for the shirt to be gone altogether. When it was, he wasn't disappointed. The stripper had broad shoulders and strong, smooth muscles. Riley licked his lips and suddenly understood what Graham had been going through with the last dancer.
The jeans were unbuttoned and Riley's mouth went dry. The dancer had his back to the three soldiers, and Riley couldn't pull his eyes from the curves and plains of the man's back. With a sharp jerk, the jeans came apart at the seams, and Riley was staring at the brunette's naked and fairly stunning ass. Riley gulped down the rest of his beer. Watching the smooth, rounded flesh before him flex and bend, the tall blonde man had to wonder why he'd never before noticed how erotic a man's ass could be.
The dancer spun around and let his movements take him along the runway. Riley didn't even remember grabbing the bills in front of him, but suddenly his hand was in the air, calling the stripper closer to him. He slid them under the strap of the dancer's red G-string, skating a thumb over the soft skin of a tanned hip. He shuddered. He pulled his hand back and forced his eyes away from the pouch of that G-string and its contents. Looking up into the dancer's face, Riley was surprised to see a bashful smile of thanks in place of the greedy or dismissive look he'd been expecting.
The dark haired man moved on, and Riley tried to pull himself together. He reached for the pitcher and found it empty. Without even asking, he snagged Forrest's beer and slammed it. Forrest started to protest, but thought better of it. Finishing off the beer, Riley stared hungrily at the dancer until the lights went down.
Riley buried his head in his hands rather than looking at his friends when the lights came back up. He couldn't even pretend to be nonchalant. His breath was coming in pants, his face felt hot, and his cock was rock hard and trapped against his leg by his khakis. There was no way he could play this off. He felt a heavy hand on his shoulder and looked up into Graham's face. His friend's light blue eyes were amused, but his smile was sympathetic.
"Guess you've got a type, too," was all he said.
Forrest protested loudly. "Nuh uh! No way am I going to be the only straight guy *and* the token black. You guys are going to have to work something out. Maybe Riley can be gay on Tuesdays, Thursdays, and Saturdays, and Graham can take Mondays, Wednesdays, and Fridays. Sundays we'll eat nachos and watch sports and nobody gets to be gay."
Riley listed as Graham and Forrest jokingly negotiated a fair distribution of sexual preferences and race. He was too distracted to join in, but he managed to smile several times. He counted it a victory.
They made it back to their hotel. None of them were drunk, but they'd all had enough beers that they decided to call a cab. Closing the door to his room, Riley leaned against it wearily. He had never been so grateful not to have a roommate. He let his head thump and roll on the heavy grey door and closed his eye. He opened them again with a groan. Every time his eyes shut, his brain went into an instant replay of the dark haired stripper. Well, he was finally alone, so Riley decided to let his brain have its way. He shed his clothes in the way to the bathroom, sighing his relief when he was finally free of the khakis that had been punishing him.
Stepping into the shower, the blonde man turned the water on and let it pound across his neck and shoulders. He tipped his head back, closed his eyes, and let the memory play through his mind. On the stage in his head, the old bomber jacket hit the floor. Riley leaned his arm against the shower wall and cushioned his forehead against it. The t-shirt rode higher on the tanned stomach and Riley forced himself not to grab his stiff cock. Not yet. The t-shirt was gone. He couldn't wait anymore, just *had* to touch himself when he recalled the way the stripper's neck had arched as he moved. The way his flat brown nipples had tightened under Riley's gaze. He kept his hand slow and his strokes smooth as the dancer turned. That lasted until the jeans came off, and the Riley started fisting his cock fast and hard. He was so close. He rose up on his toes, pressing his forehead harder against his arm. In his mind, he touched soft golden skin and big dark eyes smiled down at him and he was lost. Gasping, Riley reached his limit and came hard, pulsing streams of come over his hand and onto the tiled wall.
He opened his eyes and stood there, breathing the steam-filled air in heavily. Once he'd recovered enough to walk straight, Riley turned off the water and got out of the shower. He smiled ironically at his blurred reflection. Only he could go to a coming out party and learn the he was in his own closet. One good thing came of it, though. At least now Forrest wouldn't have to plan a separate celebration for Riley.
Part Two
Current Mood:

happy